What does it mean to be a supporting club?
ECA achieves:
✓ A soccer club signs up to be a supporting club.
✓ In USA the soccer club commits to include a $10 fee for each registration.
✓ The total each season will be contributed to ECA.
Does this amount matter?
✓ For just $10 we are able to provide 20 boys with an extra meal a day!
✓ Multiplying $10 with the total amount of players in your club makes ECA able not just to feed the boys.
✓ We can build them acceptable classrooms, dorms etc.
✓ You change the life of the children!
How do clubs benefit from supporting ECA ?
Below we have listed 13 very good reasons.
1)
The soccer club helps ECA boys to have a fair chance in life.
2)
The contributions ensure ECA boys proper nutrition, education and soccer training.
Next step will be to build the facilities so that we can offer the best possible environment for these youth and others in need.
3)
The soccer club gets associated with a social profile.
By taking a social responsibility the club will attract players, families and companies to be a part of something more than just a club.
Your company has the permission to use our name and logo on your website and for other marketing activities and thereby create your CSR profile.
4)
This will boost your image and identification externally.
Internally we are sure that your club can make use of this cooperation by communicating it in your club – now you have values ​​that you act upon – your members achieve a common pride in your effort to help which lead to a boost of your identity and community.
5)
Get an inspirering and touching talk about the academy and the children in your club.
Thomas Thor (CEO and chairman) of the academy will provide your club with a great talk that for sure both give an insight of our boys daily life, inspire to make a change and the future possibilities for africas youth.
This makes sure that all your members understand and appreciate what they are a part of.
6)
Your soccer club will have the ECA logo and link on your website that takes the viewer directly to our website for more information.
7)
On the ECA website we will have your soccer club logo and link to your website.
8)
We will create a worldwide community of ECA supporters who can communicate together and become ECA friends.
9)
ECA will update all club supporters with articles, photos and videos on our website and social medias.
This way your soccer club will know how we progress as an academy and youth develop as athletes, scholars, and human beings.
All of your members will see the difference right away.
10)
We provide flyers / brochures to be in your club.
This makes sure that all your members understand and appreciate what they are a part of.
Additionally, your members can read and take the materials home with them when they are visiting your club.
11)
ECA will send a monthly newsletter.
Your club can use this newsletter for bringing news of your ECA support on your website.
12)
To improve your daily work in your club, ECA will make sure that you have access to a powerful resource, "Coaches zone".
Available are drills, tools, and tips to support your coaches.
13)
Opportunity to experience cultural exchange in person.
In 2019 we will also be able to welcome your club, single team or individual families to Uganda.
As a supporting club we will make sure that we provide you with an extraordinary experience provided by an established local travel agency for the lowest cost possible.
Your members will get to see live what they have supported and the role they have played to make ECA a success.
We are curious of your thoughts.
✓ ECA will provide exceptional customer service and personal attention if you have any questions.
✓ We will always be curious how we can improve our relation and maybe you have an idea we haven't thought of yet.
Please let us know your thoughts.
✓ Always our ambition is to build relations stronger and stronger.
Why Support?
El Cambio academy is a non profit organization that provides young boys an upportunity in life through soccer and education.
It is an elite soccer academy that combines social responsibility and gives the boys a possible future pathway in profesionel soccer.
By supporting the academy your club makes it possible for these young boys to have a fair chance in life.
The whole idea of El Cambio is to have the boys forfill their potential and then give back to their local neighborhood with education, network and resources.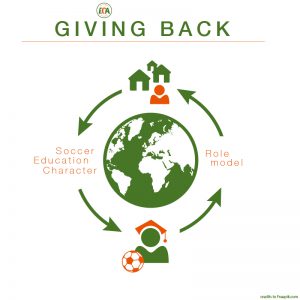 If the Academy is to succeed with this change i their lives, the Academy needs financial support by soccerclubs.
All money goes directly to the El Cambio Academy, that ensure that the boys will have food, education, soccertraining and so much more.
Your club is supporting a very important case and we thank you so much for that.